You'll always know what's going on with our organization.
3rd Annual 7k Fun Run: In memory of Kevin Hendrickson
Saturday, November 10, 2018 8:30 am - 12:00 pm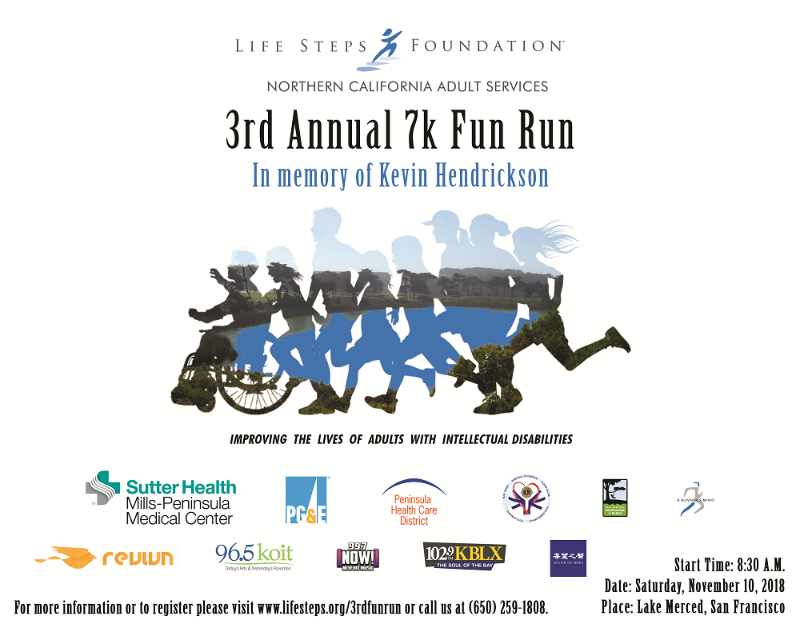 Location:
Lake Merced, San Francisco
Description:

Early Bird Registration is now open until September 30, 2018!


This is our third year setting up the fun run event in memory of Kevin Hendrickson. Kevin was a beloved participant of our Center who passed away in 2017. Please support us by joining and participating in our run us this November or if you cannot make it, donate to our event. Any donations matters. All funds go to our Social Dynamics Center to support our work and purchase much needed equipment for our individuals with intellectual disabilities.


For more information, please email call or email us. The main contact information is below.


********************************************

Who We Are

Life Steps Foundation Northern California Adult Services

Our programs and services increase an individual's ability to work cooperatively in their community and to develop essential daily living skills. Our trained staff assists participants to advocate for themselves, to attain the level of community inclusion they desire and maximize their potential within a safe, supportive environment. We provide training in daily living skills, vocational skills, communication skills, sensory skills, leisure skills and mobility and safety. We also offer recreation, exercise programs and transportation services.