IMPORTANT: Santa Maria Wisdom Center Has Moved Its Services
Santa Maria Wisdom Center is now operating at our new location at 2255 South Depot Street in Santa Maria beginning Monday, January 14, 2019. All telephone numbers will remain the same. Transportation services may slightly change. Hours of operation for the CBAS program will be Monday – Friday 9:00 am – 2:00 pm with business hours from 8:00 am – 3:00 pm. We are now preparing for the Grand Opening Ribbon Cutting Ceremony being held on February 28, 2019 at 3:00 pm! We will be providing tours and refreshments to guests.
---
Thank you Team Depot and The Home Depot Foundation for your generous support!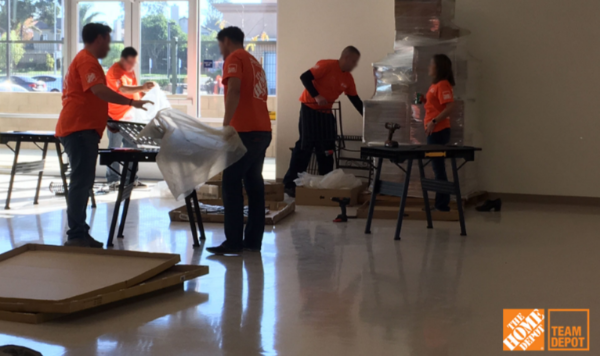 All of us at Life Steps Foundation are grateful to The Home Depot Foundation for generously awarding our Santa Maria Wisdom Center with a $15,000 grant to purchase much needed equipment and furniture for our new Center. This award came at a pivotal time for the Wisdom Center as we are moving to a new building opening early next year. The Home Depot Foundation and Team Depot were also gracious enough to volunteer and help set up the furniture and equipment at the new Center. It was a remarkable team effort that would not be possible without the support of the Santa Maria community and The Home Depot Foundation. 

For more information about the grand opening ceremony being planned for our beautiful new Center in Santa Maria, please join our mailing list or continue to check our website for updates!
---
Life Steps Foundation, Inc. is a non-profit organization dedicated to meeting the health, psychological and socioeconomic challenges of people throughout their lifespan who are experiencing mental, developmental or physical disabilities.  Learn more and get involved.
Our programs are designed to further our mission and provide much needed services for our constituents.
Take a look.

Join our mailing list to receive our quarterly newsletter and information of our annual events.
Sign Up Today!

Fundraisers and events help us raise awareness and generate crucial resources to serve our community. Join us at our next event and see how you can get involved.
Find out more.
Posted on 02/18/2019

There are ways we can challenge ourselves to grow in empathy. If you want to learn more, check out these tips for how to cultivate more empathy for others.

Posted on 02/11/2019

What if you could live with more compassion this week and share love with other people in your community, country or even the world? Turns out, you can!

Alzheimer's Association® on 02/05/2019

A workshop presented by the Alzheimer's Association®